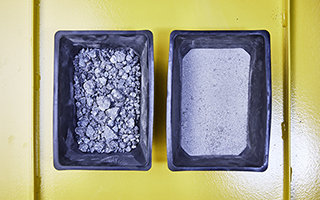 High particle size reduction ratios
The VeRoLiberator® achieves exceptionally high particle size reduction ratios in a quick single pass comminution. The maximum so far is a reduction ratio of 1,000 (F80 < 120 mm and P80 < 120 µm). This impressive reduction ratio has been achieved on a bulk sample of massive sulphide ore from Rio Tinto, Spain.
Where such extreme particle size reduction ratios are suitable, the VeRoLiberator® can replace two or even three steps of conventional comminution, directly from ROM to a flotation feed.
Alternatively, the VeRoLiberator® can also deliver excellent coarse particle liberation, e.g. 85% liberation at 800 µm instead of 135 µm, for coarse particle flotation, improved dewatering of slimes and safer dry-stacked tailings dams.